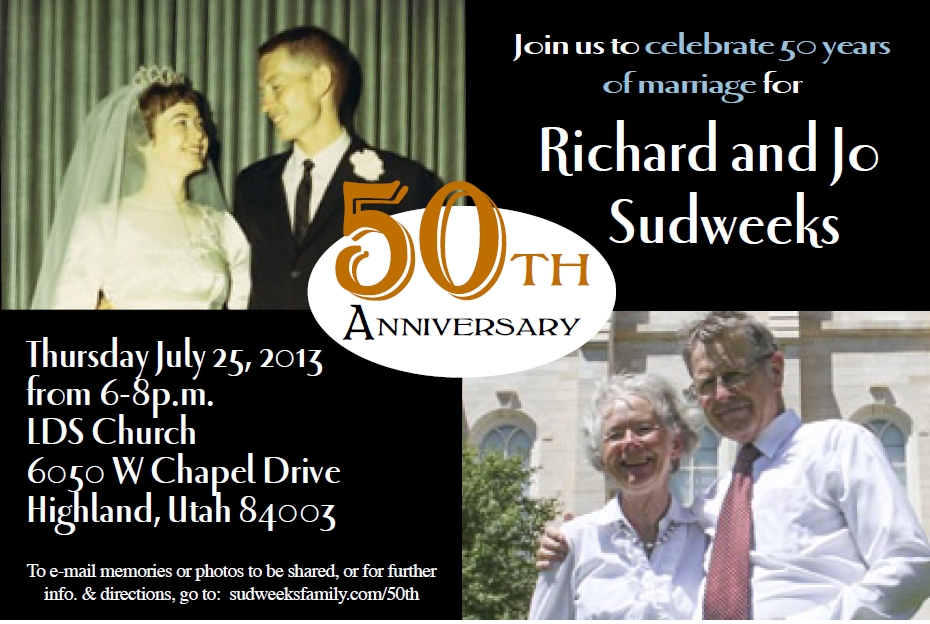 (invitation created by Emily Sudweeks Reynolds - thanks Emily!) If you know of someone else who would really like to be invited, please let us know (and feel free to forward this link or invite them to the Facebook event: 
https://www.facebook.com/events/295890800545269/
.) If you have some 
memories/pictures
 our family would treasure, please contact Claudia Sudweeks (cesudweeks@yahoo.com or 801-756-5106) so that she can arrange to get them. (We'll make digital copies of the pictures so you can keep your originals.) Thank you!
Directions for those headed South on I-15
(Exit 284) 1. Head east on UT-92 E toward W Digital Dr (4.7 mi) 2. Turn right onto N 6000 W (0.4 mi) 3. Turn right onto Chapel Dr (Chapel will be on the left)

Directions for those headed North on I-15
1. Head northwest on Exit 276 (0.1 mi) 2. Keep right at the fork, follow signs for American Fork and merge onto S 500 E (0.9 mi) 3. Turn left onto E State St (0.5 mi) 4. Continue onto E Main St (436 ft) 5. Turn right onto UT-74 N/N 100 E, Continue to follow UT-74 N (3.1 mi) 6. Turn left onto W 10400 N (0.8 mi) 7. Take the 3rd right onto N 6000 W (0.4 mi) 8. Turn left onto Chapel Dr (Chapel will be on the left)